He was a member of the 150th Engineer Combat Battalion which earned the Presidential Unit Citation and five battle stars in the European theater of operations.
As corps troops, the 150th was attached to larger units and went on missions with them. It built bridges -- Bailey, Treadway, infantry footbridges; cleared and planted mines; removed roadblocks; maintained roads; performed as infantry; and transported troops across rivers in assault boats.
The Battle of the Bulge started December 16, 1944. On that date, A Company, 150th, was building, under sporadic artillery fire, a double/double Bailey bridge in Sarreguemines, France. Several days later the outfit was on the road, with the rest of the battalion, headed for the Duchy of Luxembourg. The 150th was about to become part of the most critical battle in the late stages of World War II.
Mersch, Luxembourg, became Headquarters. The troops were billeted in homes of friendly townspeople. There was no immediate action. The young soldiers sanded roads, sharpened their marksmanship, put charges on bridges, and became restless. What were they going to do? When would it happen?
What did happen shortly was that a USO show was in the vicinity near Luxembourg City. Truckloads of young soldiers headed excitedly away from danger to an evening of entertainment and fun.
After the show, the different companies headed back to Mersch. A Company's truck was driven by Bob Keefe, an expert, careful driver. Paul Routhier and Jim Kresge were in the cab with him. The rear bed of the truck was packed with standing soldiers, speaking in muted voices. It was a cold, dark night: no stars, no moon.
Sergeant Bill Morrissey and Eddie Barsom were on the middle of the right side of the truck, hanging on lightly. Ed was standing on the inside of Bill, between Bill and the cab of the truck.
Morrissey and Barsom were in the 18-year-old draft of 1943. In 1945, Ed was 20 or 21 years old. He was husky, broad-shouldered, a little short of six feet tall. He was dark-complected, with a smile that turned brooding eyes into twinkling lights. He was battle-tested. Ed had learned to swear, and was proud to be a man fighting for his country. The stripes he wore on his sleeves were for a T/5, earned as a radio operator in the second platoon, A Company, 150th Engineer Combat Battalion. Barsom was from Agawam, Massachusetts.
During World War II, combat vehicles had the headlights painted over until only a couple of dots of light were visible. They looked like cats' eyes glowing in the dark.
As Barsom and Morrissey talked, a pair of cats' eyes appeared from the right, coming from the direction of Mersch, the 150th headquarters. Almost parallel with the A Company truck, another pair of cats' eyes appeared on the left in the passing lane, coming from the direction of Luxembourg City. The two solders never knew what happened. A horrendous crash!
Morrissey regained consciousness as he was being dragged from the overturned truck, which had been knocked off the road. He felt nothing, no pain, just the sensation of someone pulling him. He couldn't move his legs. "Son of a bitch", he thought. He was going home.
The ground was covered with seriously hurt young men, with horrible injuries. There were smashed faces, broken legs and arms, traumatized bodies. Their moaning and groaning echoed through the night.
An ambulance arrived. Morrissey, with M-1 rifles strapped to his legs for splints, was put in the ambulance. Ed Barsom was already there. Approximately 18 Company A combat veterans, who had survived previous battles, were sent to the hospital.
As the ambulance headed for an aid station, feeling returned to Morrissey's legs. He unstrapped the rifles and walked into the building. He sat on a bench. A couple of medics placed a body on a table next to him. It was Ed Barsom.
A medic said "Sir, you better look at this one." An officer came over, rolled back Ed's eyelids and pulled out his tongue. The doctor pulled a blanket over Ed's face.
"My God, he's dead," Morrissey thought. "If I had been standing there, I'd be under that blanket. Ed stood between me and Death."
Ed Barsom was the only one killed in that truck accident.
Sergeant Morrissey was diagnosed with a possible fractured knee. He was back with the 150th in less than a week.
Bill Morrissey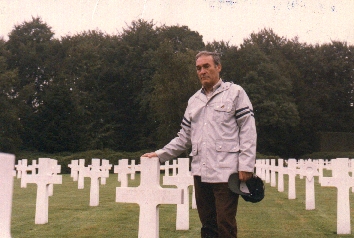 I couldn't tell this story for a long time.