150th Engr Combat Bn. Association
43rd Reunion May 19-20-21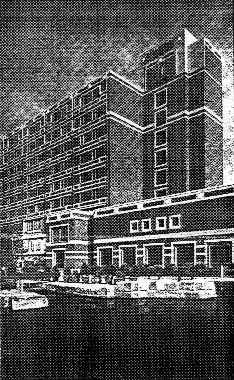 Lowell Mass. awaits your arrival for the May 1989 Reunion. Many of you stationed at Ft. Devens should have old memories of this city. You will be staying at the Lowell Hilton in the center of Lowell. The Hilton has an indoor pool, sauna, whirlpool and exercise room to make your stay more enjoyable. A tour of Lowell by trolley car & canal boat is being set up for those interested. Trull's golf course is two (2) miles away, almost straight up the road. For those members who have never attended or who have not attended in some time, now is the time to rekindle old friendships. We all know time is marching on and we should take this opportunity to get together with old friends & buddies all who served so well in WWII. The Lowell Committee is working hard and enthusiastically looking forward to seeing you all.
Hats off to Bill Morissey and crew for the outstanding reunion we enjoyed at Manchester N.H. Bill also doubles as our master of ceremonies and drill sergeant. Well done Bill. Always nice to see first timers such as: Gunnar Anderson, Charlie Dwelley, Will Hutchins, Melvin Meadows, Joe Perrone and Harold Zaks. Those who came a long way are: Gunnar Anderson, Mn.; Elliot Antognone, Otto Brauer, Kenneth Ely, Fla; Leo Davis, Joe McGlinchey, PA.; Jerome Gruber, Lawrence Insigna, NJ; Nick Kakunes, GA.; Myles Smith, LA; Melvin Meadows, Tenn.; Clement Sears, Ky. What a great effort on the part of these members. Keep it up.
Added information: All reservations must be in by April 28, 1989. $50.00 deposit required. Rest of payment can be made by Visa, Mastercard, Carte Blanche, Diners Club, American Express and Personal Check.
Cost of Banquet only will be $50.00 for the men and $25.00 for the women. This covers the cost of the meal, tax, association dues, hospitality room, honor guards, bugler and the orchestra. See you at the Lowell Hilton, Lowell, MA, May 19-20-21, 1989.
Your Committee
John DiSalvo
Arnold Harris
William McGee
Charles Mone
John Routhier
Joseph Statz
George Vieira
(Directions on the reverse side) [not on website]