150th Engineer Battalion Launches WWII Reunions Here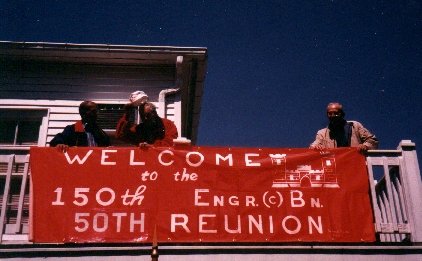 With the arrival of warm weather, the first of several 50-year reunions of World War II veterans is taking place this week in Falmouth. About 30 members of the 150th Engineer Combat Battalion of the US Army are staying at Shoreway Acres Resort through Friday.
The 150th was a battalion of New England men. Their training in 1943 included a stint at Camp Edwards. "The first highlight of this period was our week in early July at Camp Edwards on Cape Cod," wrote one of the members. "Our mission was to build a model German village to be used in training soldiers for street fighting in Europe. Fifteen buildings were constructed in two days"
The men, about 600 in the battalion, were shipped overseas aboard the liner Queen Mary at the close of 1943. They were assigned to General Patton's Third Army to build bridges for the tanks and infantry. They were in the Battle of the Bulge and also constructed the first bridge across the Rhine River. When the war ended, the 150th was in then Czechoslovakia.
Seven of those attending the reunion are Cape residents: Curtis Shaw and Pat MacIsaac of Yarmouth; George Gaetani and Jim Feeney of Dennis, Robert Pearl, Orleans; Anthony Jacket, Provincetown, and James Donaghue of Hyannis.