Welcome to the web site dedicated to the
150th Combat Engineer Battalion
of WWII


This website has 339 pages, 1074 pictures, 1 movie, dozens of stories, and many awards. It has been set up to be best viewed at 800X600 or higher resolution.
If you have accessed our site on any other server, please use www.150th.com

1/15/17 We would like to thank Major Lyons (New Battalion Commander), Major Rowland and the entire 150th Brigade Engineer Battalion for the warm welcome they gave my father, Robert Pitts, for the reactivation and the command change ceremony at Camp Shelby in Mississippi. Everyone came up to welcome my dad and thank him for not only his service but for coming. I think at least 100 people must have shook hands with dad! From Privates to 1 & 2 Star Generals. They ended the reception with a presentation of a plaque to my father. Pictures and more to come in the future.

Please check out the announcements on the bottom of this page.

This site is not affiliated with any agency or group, public, private, or government. It is put together and brought to you by the son of a soldier that was in the 150th Combat Engineer Battalion in World War II.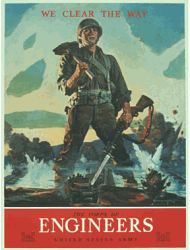 Click to see a larger poster
An interesting poem
THE SOLDIER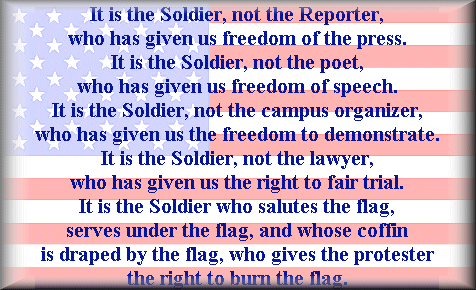 By: Father Denis Edward O'Brien, USMC
Thanks to Rutland Cub Scout Pack 141, Rutland, Massachusetts, for submitting
the above flag. it corrects a version I had on this page.

This is the 4th or 5th counter for the front page.
A more accurate count is on the next page
Announcements;
Please bear with the quality of this site. It was originally written for older browsers (Netscape & Internet Explorer 4 & 5), and today's browsers do not always handle things the same. Someday I hope be posting a site rebuilt, easier to navigate. This is not an easy job, as there are over 335 pages to edit individually. At that time monitor resolution was 800 x 600 or high resolution was 1024 x 768.
9/12/2011 To all the people who have emailed me, I am sorry if I do not reply. Between here and work, I receive dozens and dozens of emails every day, and although I do read what people send me, some times I do not have time to reply right then. When that happens, your email gets moved down the list of emails I have received. For those that have requested, I take a case by case request for use of materials on this website for usage by others. I own or manage the copywrite to ALL the material on here, unless otherwise specified. This means you do not have the right to copy any of the pictures, stories or other items from this website for private or commercial usage. If there are pictures of your relatives on here, I authorize you to take a copy of those pictures only for your private collection or usage. If you would like a copy sent to you, just email me. If you want to use my material for any other use, you are required by law to contact me first, and get my written permission.
6/2009 & 1/2017 Due to many people asking me, I want to let everyone know, I am still maintaining this website, and will be until either the internet is gone, or I am. Whichever comes first. I put over 10,000 hours into building this place. I will never just let it go. Plus, my father has this website address on his gravestone for when he passes away. So that means I need to keep it up forever!
6/15/2007 It is with great sadness that I report after 61 years, the 150th Combat Engineer Battalion Association has now disbanded. Due to the deaths of many of the prominent members, as well as the health of others, it was decided that a great association disband. Through the years, they have manage to over come anything that was ever given to them as an obstacle, from the day the 150th Combat Engineer Battalion was formed, until now. These men have managed to do something VERY few have ever been able to do. They where able to stay close, all the way from Basic Training in 1943, though one of the worst wars this nation or world has ever seen, until 64 years later, when they have said their last farewell.
On a personal note, I managed to get to know many of these great men, and would do almost anything for them, as I consider them all like family. I wish the surviving members of the outfit the best of health for their remaining years. I hope you all will have fond memories of your times getting together with your buddies. I was not informed, and did not know of the 61st reunion that was held, and it saddened me to hear only 8 members were able to attend. You will always be held close in my heart.
---
Are you a WWII vet? Or do you remember stories your dad told you about his time in WWII? Email it to me. I have created a new section to the website, for stories from WWII, from non 150th members.
---
If you missed how to enter this site, scroll up to the gold button in the center of the page and click on it. (or click here)
© 1997-2017 All rights reserved. Rick Pitts.
No pictures, stories, or other content may be used from this website, without permission from Rick Pitts.
E-mail: Click here for email